One of my dearest, dearest friends shared this with me sometime ago.
Jazakillahu khayr, Lollies!! *muahhs*
Alhamdulillah, this 'formula' really helped me plan my activities and Qur'an recitations during last year's Ramadhan. Of course, this is also applicable to other months as well.
Sharing is caring; therefore I am now sharing it with you... :)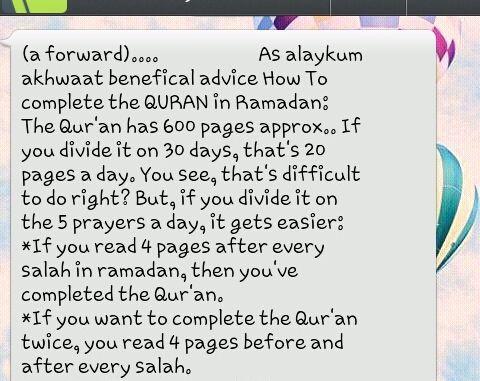 Speaking of the Qur'an, here are two more Read Me(s) that I would like to share. Hope you'll find them inspiring and beneficial, like I did when I first read them.
1)
10 Tips to Becoming One of Allah's Special People
2)
Spotting People of the Qur'an
Note: There are many, many, many beautifully written articles on SuhaibWebb.com. Go check them out.
:)