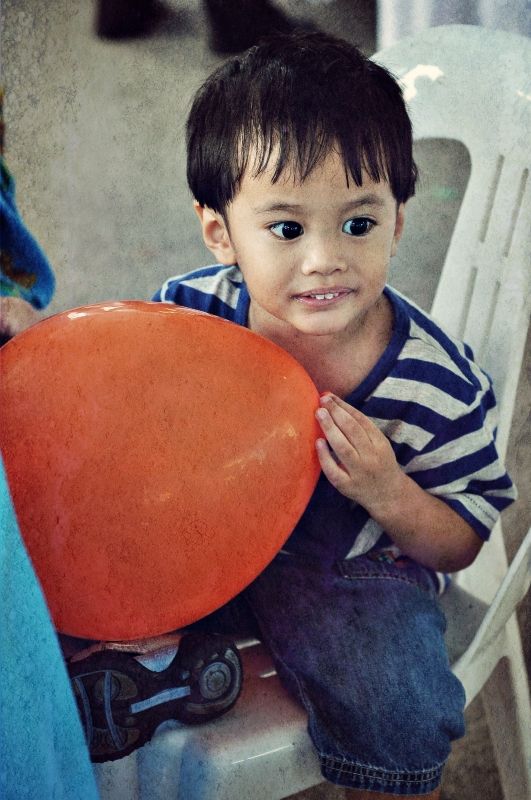 Assalamualaikum and Hello Everyone. *waves*
My name is Nuaym.
Also fondly known as Le Petit Pwince (on this blog). I don't think we have been properly introduced before because my mom (I call her Ibu) has not been diligent enough in updating this blog ever since she gave birth to me 3 years ago. Yes, that's right...
I TURN THREE TODAY!!
Happy 3rd birthday to me!! :)
Err... so, let me tell you more about myself.
I am the 3rd child of famyGirl & famyBoy (my beloved, super-strict parents).
I am the youngest sibling among the famyKids. I have a sister, Kakak (she's the eldest) and an older brother, Abang (2nd child in the famyFamily; he's my role model cum idol).
In general, I am a very hyper and happy toddler. I don't walk, I run. And why shouldn't I if it makes me arrive at my destination faster, kan??
I also like to jump, climb, sing and dance. Speaking of singing and dancing, Abang and I like to sing and entertain ourselves with Psy's Opp@ G@ngnam Style dance moves. This, unfortunately, drives my Ibu nuts.
I have two front 'mancung' teeth. My siblings say I remind them of Mater (from the movie Cars) or Spongebob Squarepants. Cis. What do they know? Ibu says that when I grow up, I'll be tall,
dark
and handsome. But at the moment, Ibu considers me her adorable
little bunny
.
I have lots of toys and I love them all, but I rarely play with them. I prefer playing with Abang's Transformers and Lego(s) instead. I believe in "What's mine is mine, what's Abang's is also mine", much to Abang's dismay.
One time I made Abang cry because I accidentally pulled out Hot Shot's head while I was trying to transform the Transformer from a vehicle to a robot. Oh, another time was when I broke his Ninjago warrior's arm (yes, that teeny-tiny Lego hand!). Ibu was speechless at first but then she pinched my hand and said I was very naughty. Ayah gave me an earfull. As if that's going to stop me from rummaging through Abang's stuff again in future. *grin*
Thanks to Abang (and his
precious
Sodor Island collection), I have started to enjoy Th0mas the Tank Engine and his friends. I love playing with the trains and watching VCDs of the series. I know the names, colors and numbers on the eight famous trains at Tidmouth Shed. I sometimes hum to the
Two, Four, Six, Eight
tune when I play on my own.
I still love playing with toy cars. I like to watch the wheels on the cars go round and round while I lie down on my side with my left thumb in my mouth. Very calming experience for me.
I was told that I am a very bossy and demanding Adik. Most of the time, Ibu & Ayah and Kakak & Abang have to surrender and give in to my demands and/or protests because they cannot stand to hear me scream. Mind you, I can scream really loud and
nyaring
. Ibu sometimes scolded me for being so
bingit
.
I like books with pictures, especially pictures of cars, trains, trucks, tractors and other vehicles. Animal pictures are okay too, but I tend to get bored with them easily. However, unlike Kakak, I am not very interested in reading. I blame this on Ibu because she rarely reads to me. *glares at Ibu*
I know my A-B-Cs (both upper case and lower case, although I still get a bit confused with letters 'b', 'p' and 'd'). I know my 1-2-3s up till 10. *beams* At times I throw in 11 and 12 just to make Ibu excited. I believe I can count objects, too. I surprise myself sometimes.
I know the colors
blue
, black,
red
,
green
,
white
,
yellow
,
orange
,
purple
,
pink
.
The other day Ibu told me that she is planning to introduce me to Alif, Ba, Ta and other jawi letters. She is waiting for the Hijaiyah Alphabets puzzle (that she had ordered online) to be available in stock and be sent to our house. Something new for me to look forward to this year I suppose.
My vocabulary has increased tremendously since the past year or so. My family thinks that I talk to much nowadays, and they are lazy to
layan
me anymore. Hmmmmph.
You know what? I think I hear Ibu walking up the stairs. I better stop here before she catches me hijacking this laptop of hers.
I'll chit-chat with you again some other day, okay? Bye!!! :D
Sincerely,
Nuaym aka Pwince Adik.
---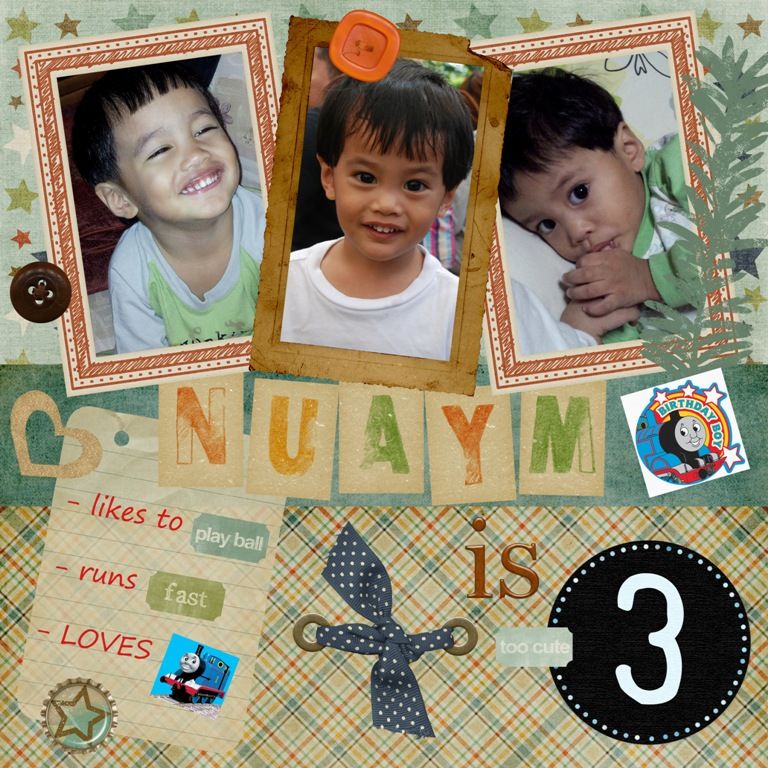 Happy 3rd birthday Le Petit Pwince Sayang. Lots and lots of lurve from Ibu, Ayah, Kakak and Abang. Muaaahhsss!!!! :D
May you grow up righteous, always live your life in taqwa, always jaga nama baik keluarga, respect your elders, rajin belajar dan diberkati dengan ilmu yang bermanfaat, dikurniakan kesihatan yang sempurna untuk beribadah padaNya, berjaya di dunia dan di akhirat dan sentiasa menyenangkan hati orang sekeliling walau di mana jua, In Shaa Allah.
Relevant entries:
1
and
2