Aidiin turned SEVEN on August 14th, i.e. 10 days ago. Time flies, eh? Teringat zaman dia
baru mula belajar berjalan
dulu. *sniff*
Aaaanyways... it's recap time! :)
1. Aidiin aka Abang started
Tahun 1 at SKBeeJay
in January.
2. He was chosen to become the Imam during the school's Bestari Solat Camp.
Sejuk perut Ibu mengandungkan (walaupun terpaksa melalui labor selama 30 jam! *trauma*).
My mistake was not saving the pictures that were uploaded to the school website previously.
Siapa suruh take things for granted and procrastinate and procrastinate, kan? Siapa suruh malas nak update blog, kan? kan?
Now that particular link no longer existed and I have no access to the pictures. *cries*
Luckily (aha!) I remembered to put up a small entry in MukaBuku on May 4, 2011. And here is a snippet of it. Better this than nothing at all, eh?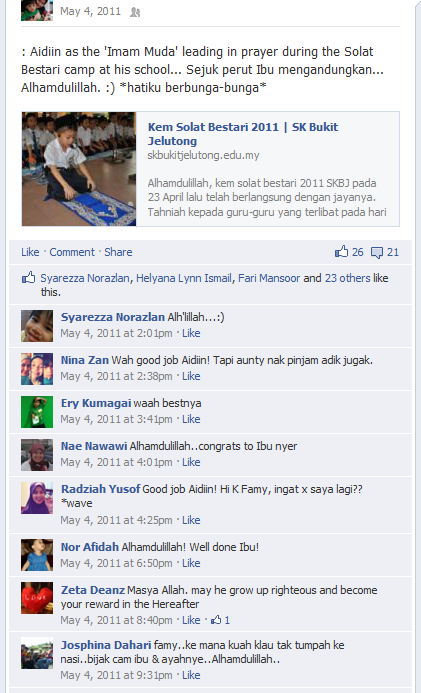 3. He had an accident at the school.
Oh, sungguh very the horror, because the cut was sooo close to his eye!!
Menurut sumber yang tidak dapat disahkan ceritanya, he had tripped at the longkang, fallen down, and had hit his head on the pasu bunga at the corridor.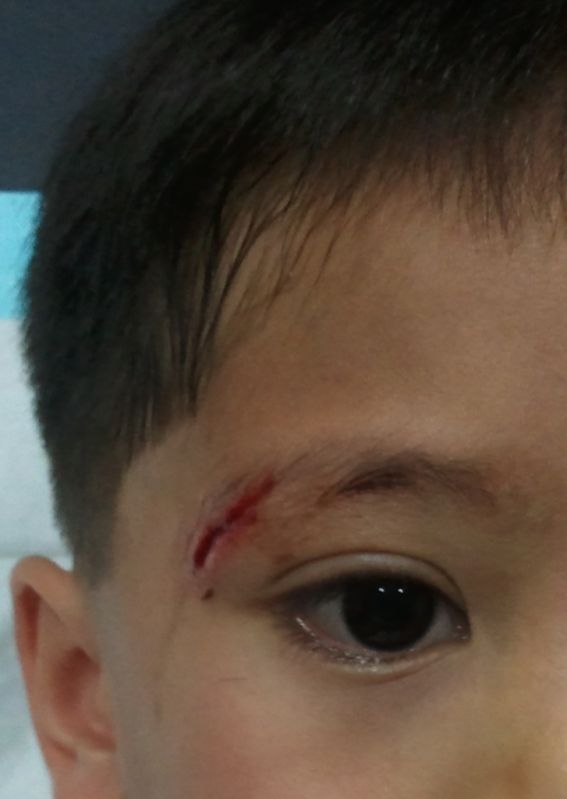 Berdebar-debar di clinic
His school shirt and singlet
Now he has
a scar on his left eyebrow
and a scar near his right eyebrow. Talk about being accident-prone. *sigh*
4. He had graduated from the Muqaddam and has started reading the Quran. I still remember the days when I was worried about his progress reading in Jawi because he appeared to have forgotten the Jawi alphabets he had learned during Taska!! Merangkak-rangkak dia nak mengeja dan membaca. I remember thinking back then,
OMG habissslaaaa... dahlah semua subjects KAFA will be in Jawi!
But Alhamdulillah, he has made so much progress ever since. *urut dada tanda lega*
Hadiah untuk Abang
Minus the unfortunate accident, I guess 2011 is a good year for him so far. Great Job, Abang!!! *two thumbs up*
Happy 7th Birthday!!!
Go make us proud of you summore, ya? :)
Relevant reads:
-
6th birthday
,
5th birthday
,
4th birthday
,
3rd birthday
,
2nd birthday
,
1st birthday