can't believe my first-born is already 10 years old. I think it is mainly because I am still carrying my post-pregnancy weight from that 10 years ago up till today. And then add to that, post-pregnancy weight from two more pregnancies afterwards. Whoa, so many, many, many kilos!!! *cries*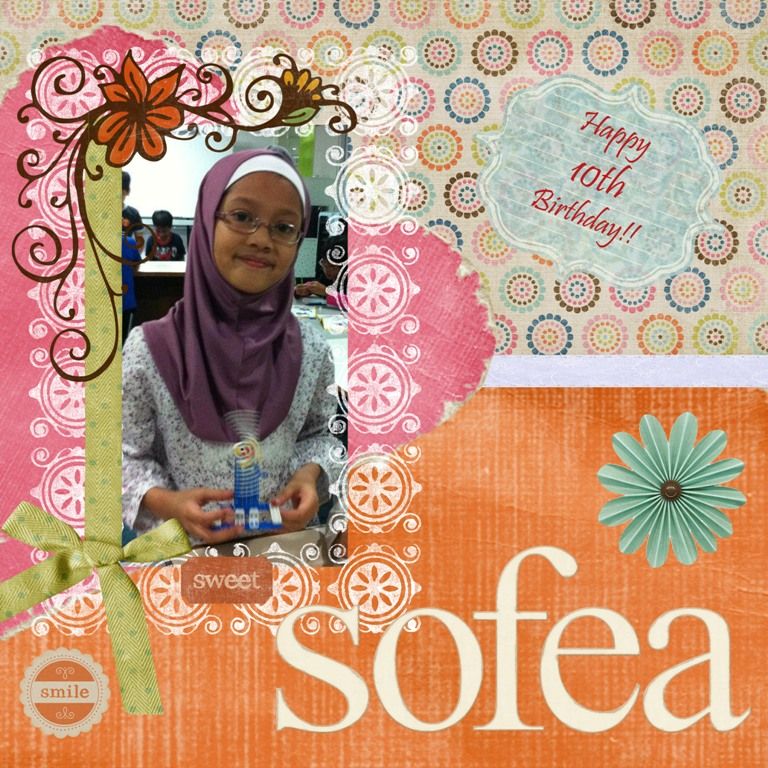 Dearest Kakak,
I know I still have a couple more years to figure out how to handle your teenage(r) years. But as an Ibu, I have started to worry about you already. I'm sorry, Kakak, I just cannot help it. It's a compulsion. But you know what? All mothers are like that. Tak caya? Ask one of your BFFs.
As you begin your (new) life as a Tahap Dua student, you are getting more involved with activities that are beyond the confines of home. I worry about influences that may be exerted upon you -- from your friends, your teachers, the media, new people you meet, places you visit, things you see and hear. I can only make du'a that these influences will lead you in a positive way in terms of your faith, values, perspectives and thinking.
I understand that you are going through a different phase in life, transitioning to become a "tweenager". Being "in between" is not easy, kan? Remember how leceh it was for us to find you nice shoes? Your feet are too big for kids'/girls' sizes but too small for young adults.
I noticed that you are very attached to the house phone nowadays. Bergayut-ing with your friends? I hope you girls are discussing about school assignments and projects. Okay, okay, I know. You need your space and privacy. I can see that from the sign at the entrance of your bedroom.
Tell you what... let's work together.
I'll try to learn things from your point of view if you promise to listen to my opinions and try to live your life according to the values that your Ayah and I have taught you. You should know by now that we love you very much and only want what's best for you.
I will try to let you be independent while teaching you skills to take care of yourself in the real world. I will continuously pray for Allah's SWT guidance to help me raise and nurture you to become a righteous and successful Muslimah, both in this world and the next.
Semoga Kakak akan sentiasa menjadi anak yang solehah untuk Ibu & Ayah and a kind, loving, fun, understanding and an exemplary sibling to Aidiin and Nuaym.
Lastly, please ingat pesanan Ibu ni... Jangan tinggal solat and always depend on the Quran and the Sunnah as your guide. Remember that Allah SWT is ALWAYS watching you in whatever you do.
Lots of Love,
- Ibu.
Extra reads:
-
Her 9th birthday
-
Her 8th birthday
-
Her 7th birthday
-
Her 6th birthday
-
Her 5th birthday
-
Her 4th birthday