Before I started typing out this entry, I peeked at the 'Edit Posts' tab of the Dashboard and saw that I had drafted a few entries that have yet to see the light of day. There were also entries from 2010. Sheesh.
I was supposed to have made time to proofread those drafts and have them scheduled for posting. Didn't happen. And the longer I procrastinated from updating and/or proofreading, the more
lazy
overwhelmed and discouraged I became and eventually I got infected by
blogger's block
, if such condition exists. :P
As a result, ze beloved blog got abandoned. *sigh* It's not like I was active in the other social network pon. So, memang takde excuse lain yang valid, except tiada masa yang sesuwai. Hmmmm.
Anyways...
T'was a busy, busy time for me this past week (very true story ni, y'all), helping Sofea with her school projects which were all due at about the same time. Fortunately her projects require some amount of crafting, i.e. an area that I am passionate about (yayy!) and secara tak langsung it gave me the opportunity to take breaks (somewhat) from my daily routine. It was also a way to channel some of my err... creative energy into something productive.
There were scrapbook projects for Music (about folk songs of Malaysia) and Kajian Tempatan (about areas/rooms in a house). There was also a plasticine modelling project of a 'tempat letak pensel' for Kemahiran Hidup.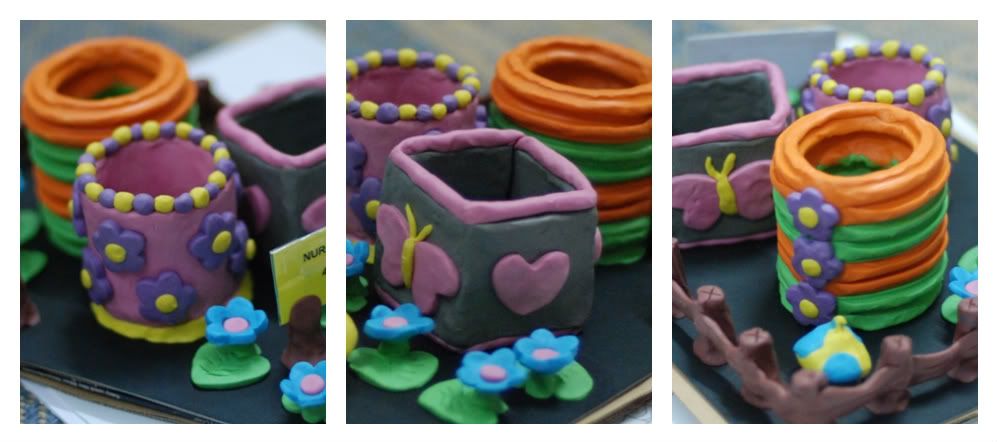 This was time-consuming but fun. Dah berkurun tak main dengan plasticine... hee hee hee
There was also another project for koku, on pertukangan I think, which I got famyBoy to help with. Takkan Ibu sorang je yang kena 'intervene' dalam hal-hal sekolah ni... bila ada peluang, Ayah pun perlulah prihatin juga, no? ;)
I also got myself busy designing personalized chocolate wrappers for Sofea's 10th birthday. Due to limited funds, we decided to forgo a birthday party, or ordering of cuppies and/or cakes/cookies of sorts and resorted to me doing everything DIY, from designing the wrappers to wrapping the purchased candy bars for the birthday girl to distribute to her classmates yesterday. I do hope she is satisfied with the end product. Last I checked, dia nampak happy je. :) Alhamdulillah.
Another reason to get panicky and stressed:
KAFA midterm exams, May 13 - May 20. SK midterm exams, May 20 - May 27.
This year, not only ada Sofea, ada Aidiin pulak to worry about. Very 'challenging' to get him to study... May Allah make it easy for both Ibu and children.
---
Mothers' Day... came and went. No celebration of sort, not even the usual makan-makan with the family. For one, my sister was still unwell and tired after being discharged from SJayEmCee. She was admitted because of urine infection and complaints of tummy aches and was hospitalized for 4 days. My mom was busy taking care of her. My MIL had an outstation trip that day. My SIL pun agak busy juga rasanya. She often has to work on weekends.
Me, to be frank, was not in a celebrative mood. Is it due to age? Maybe. But partly juga, due to having very limited funds to spare at the mo, maka nak 'enjoy' pun kena beringat-ingat, pikir dua tiga empat kali even.
I felt content with the bigger kids wishing me Happy Mothers Day and giving me hugs and kisses on the cheek. Cuddling Le Petit Pwince Nuaym and smothering him with kisses (sampai dia naik rimas!) was sufficient to make me realize how blessed and fortunate I am that Allah SWT has given me the opportunity to become a mother. May He bestow upon me guidance and grant me banyak-banyak patience to nurture and raise my children in the way that is most pleasing to Him.
[EDITED TO ADD]
Alamak! I have yet to figure out what to DIY as gifts for Teachers' Day... oh no!!
[/EDIT]