Aidiin turned 6 on August 14th this year. No longer the baby in the family, he now prefers to be addressed as Abang, whenever possible and appropriate.
Before 2010 comes to an end and before I totally forget to blog about it (like
his birthday last year
*blush*), let me jot down my thoughts and observations regarding the birthday boy.
I would say his biggest achievement this year would be his willingness to try and fast during the recent Ramadhan. His first attempt to fast full day and he managed to complete the entire month. Syukur syukur to Allah... His perseverance and accomplishment definitely exceeded my expectations. Next year's Ramadhan's goal, insyaAllah, would be to follow Ayah to the masjid for terawih prayers.
He has started performing his prayers daily; voluntarily, Alhamdulillah. Tapi still kena regularly remind and monitor-lah. Sebab sometimes Ibu agak musykil cemana solat 4 rakaat boleh di-complete-kan dengan begitu cepat sekali... :P
He simply adores his little brother, Le Petit Pwince Nuaym, and the feelings are mutual. Nuaym would shrieeeek in delight at the sight of his Abang. And Abang literally makes Adik LOL. They also share a common interest as you can see. Talk about bonding...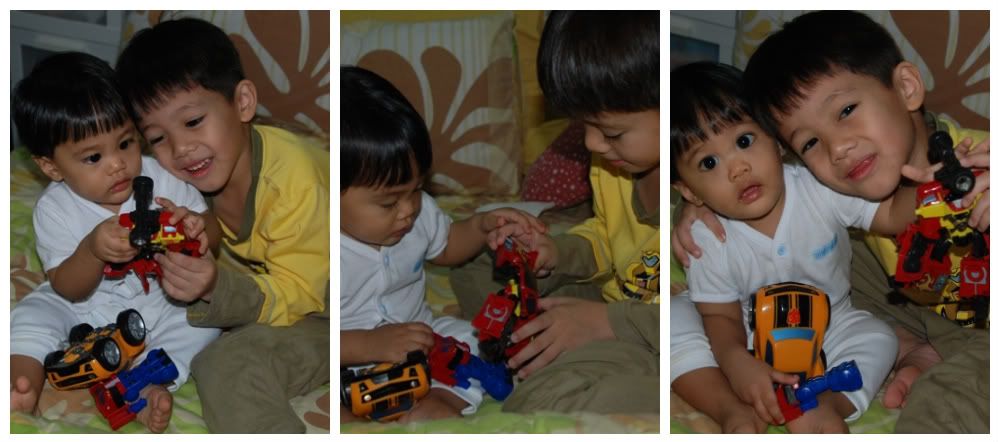 Aidiin's relationship with his elder sister is somewhat love-hate-love. Bila time gaduh, memang masing-masing takmo mengalah. Grrrr. But bila time (sangat) baik, I would be in disbelief at the level of 'kamceng'-ness between the two. It makes my blood go upstairs when the argue and fight, but at the same time it worries me when they don't. :P
Apasal senyap je??? Apa agaknya projek budak dua orang tu???
Fenin fenin.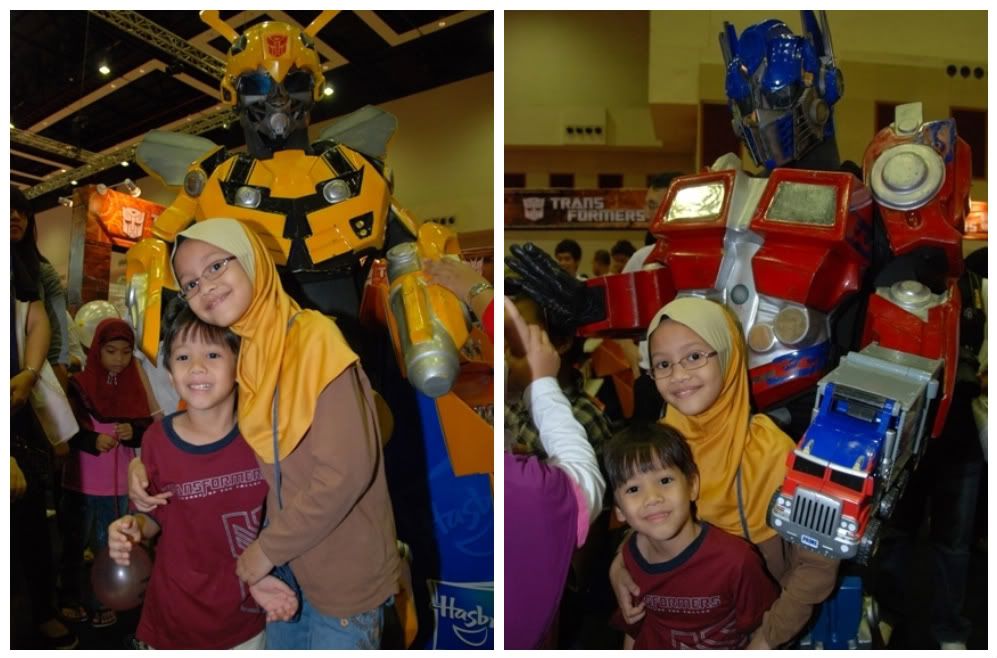 I think he has a tough job being the middle child. Not only does he need to be a good and obedient Adik to his sister but he also needs to be an exemplary and great Abang to his little brother.
This year, he was entrusted with several leader positions at his school. He was elected Captain for Team IQ (aka Yellow team) during his school's Sports Day last October. He was also chosen to lead/recite the Doa Pembuka Majlis, to which his schoolmates "Ameen"-ed to dengan penuh bersemangat. :)
We had the usual birthday do at his school, but we did the party thingy five days earlier due to his birthday falling in the month of Ramadhan this year. Even though it was an in-advanced celebration, I noticed that it was still very the meriah and kecoh all the same.
I should tell you this (ehem! ehem!)... For this year's party, his customized favors were DIY by moi. Not too bad, eh?? ;)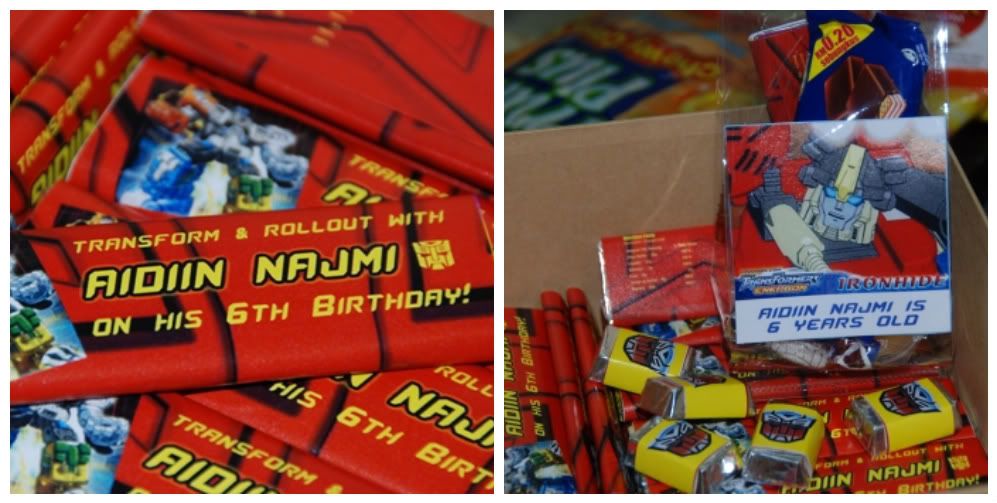 Tomorrow will be his last day at his current school.
Bye Bye Sals@biil@ and Hello SK & KAFA.
In fact, his Year 1 orientation at the SK will be held on this coming Friday. Dah nak jadi murid Tahun 1 dah anak teruna ku ini. *sigh*
Some other (random) captured moments...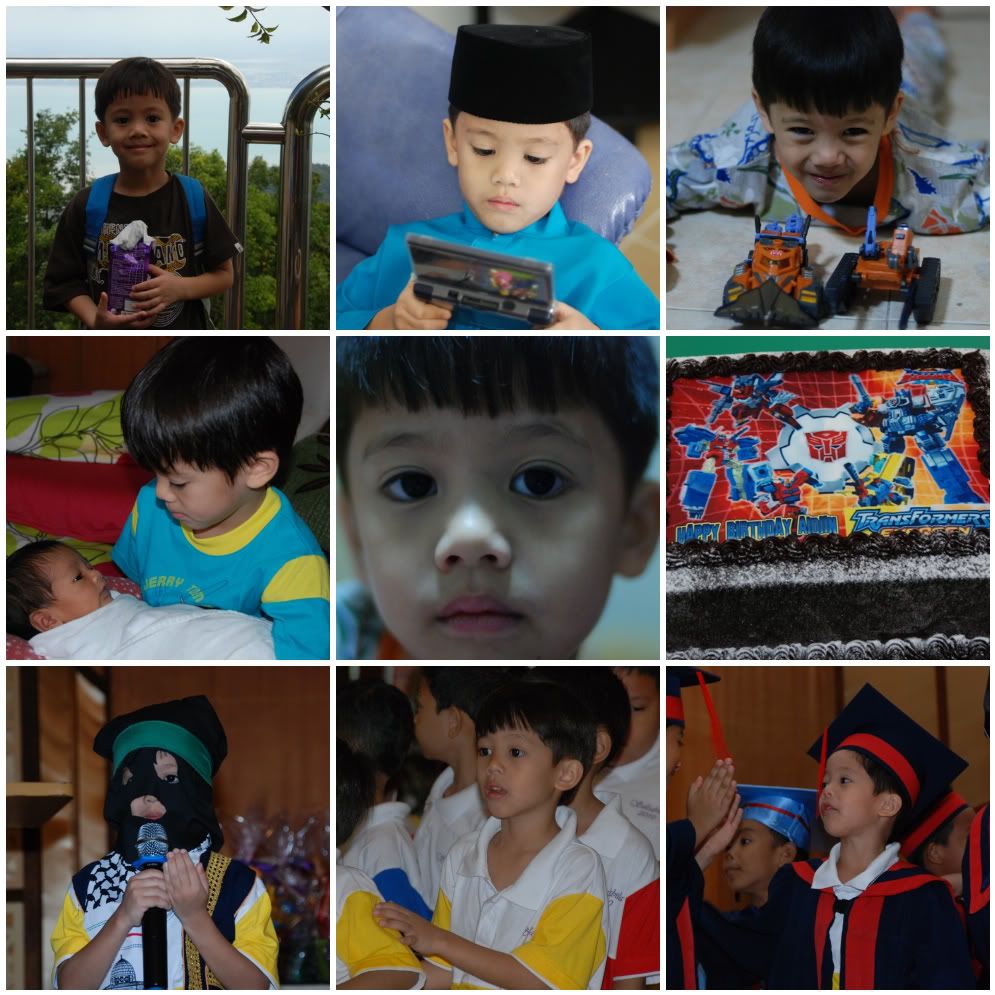 Happy 6th Birthday to you, Abang.
May you grow up to be a righteous and successful Muslim, both in this world and in the next. May Allah guide me and grant me patience to nurture and raise you and your siblings in the way that is most pleasing to Him. Ibu, Ayah, Kakak & Adik love you lots and lots.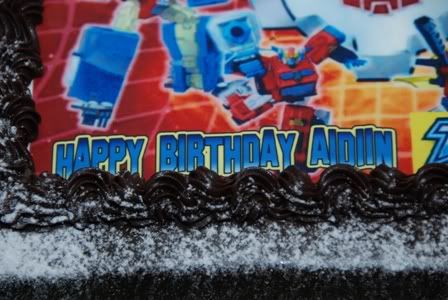 Oh and one more thing, Selamat Menempuh Alam Persekolahan 'Big Boy' di SK and KAFA!! May Allah make it an easy transition for him (and for me!!) Gosh... I am nervous banget just thinking about it.
p/s: Notice the 'theme' for last year's and this year's entry? Yup, he has DEFINITELY outgrown his Th0mas the Tank Engine era. :)
Relevant reads:
-
5th birthday
,
4th birthday
,
3rd birthday
,
2nd birthday
,
1st birthday