Routines? Schedules? What routine? What schedule?
With a 10-week old baby in the house, I can forget about establishing routines. The least I can do is think ahead (and remind myself to have very low expectations), and try to 'squeeze' my so-called planned activities in between feedings, layan-ing Nuaym and housework.
Mind you, although Nuaym is my 3rd child, this is actually my *first* experience (as a SAHM), in taking care of a baby fulltime. Sofea and Aidiin were sent to kindy as young as 2 months old since I was still working mommy then. I have to re-learn many things coz it's been 6 years+ since I last handled a baby. How to mandikan baby pun makcik dah lupa. *blush*
So, we have
1
baby. Then ADD
2
older (
hyper
highly-spirited) siblings. MINUS
1
helper (we never had one in the first place). MULTIPLY with daily loads of laundry, ironing, and occasional kemas rumah and masak-memasak. Doesn't that equal to lots of kelam-kabutness, chaos & pening? *sigh*
Not that Nuaym is a difficult and demanding baby. In fact, he is not a difficult baby at all (Alhamdulillah... syukur syukur to Allah for that) but his 'timings' are unpredictable and therefore it is almost impossible for me to plan and stick to a schedule. No doubt famyBoy does help me with the baby and the big kids, and part of the housework, but for a control freak like moi, I can't help feeling helpless and 'Arrrrrghhhh!' when situations get out of hand. Tsk tsk tsk... Istighfar banyak-banyak Ibu...
Anyways... how does my 'typical day' look like nowadays?
When Nuaym naps in the morning, I'd be doing laundry or preparing stuff to cook for lunch or kemas rumah. Ideally, I would want to nap with him (coz bila lagi nak rest kalau tak time dia tido kan?) but by the time I've completed half the chores, he'd be awake and needs feeding or changing. To nurse, comfort and put him to sleep takes some time, and by then either Sofea has returned from KAFA (and needs to eat lunch before going to SK) or the washing machine's done and laundry kena jemur.
When he naps in the afternoon, I'd either be folding laundry, or catch up on ironing or planning/preparing stuff for dinner. Kalau sempat/larat, get online or read and kemas whatever patut, itupun if he sleeps through the hour. Where got time for Ibu to nap-lah??? Sometimes nak go toilet pun kena put 'on hold'.
Basically, at the mo, life revolves around Prince Nuaym. :P
---
Since I'm already updating, I might as well jot down some of Nuaym's milestones up till now. Let's see... I noticed that he can hold his head up quite steadily when he's lying on his tummy, sometimes he pushes himself up with his arms. Belum boleh rollover lagi, but he can move from his side to his back or from his front to his side. I don't have to be concerned about him falling off high surfaces yet I guess, but whenever I place him on our bed, I'd make sure to have him barricaded with pillows, just to be safe.
He's starting to drool a lot too. The situation gets exceptionally sticky-wet and when he tries to push his fists into his mouth. His cheeks and chin would be berkilat-kilat bagaikan glazed doughnut. :)
He is becoming a good listener but I am not sure if he is able to differentiate the various voices he hears. He would turn his head to see where sounds are coming from. I think his vision is becoming clearer too. He'd give eye contact to me or anyone who 'talks' to him and his eyes would focus and follow a moving object. He'd notice the bright colors, lights and noise emanating from the TV but his attention span is still short and he gets bored easily.
What else ya? Ohhh yes... he stays awake for longer intervals nowadays (hence the unpredictable nap durations). During his waking times, he either needs changing or wants to be carried or cuddled. He loves being talked to and he loves talking back... potential chatterbox this one. Besides cooing and 'ahh'-ing and making gurgling sounds, he'd be grinning and smiling ternganga-nganga. And nothing beats the comelness of the smile of a baby with toothless gums. Gerenti cair babe!! :)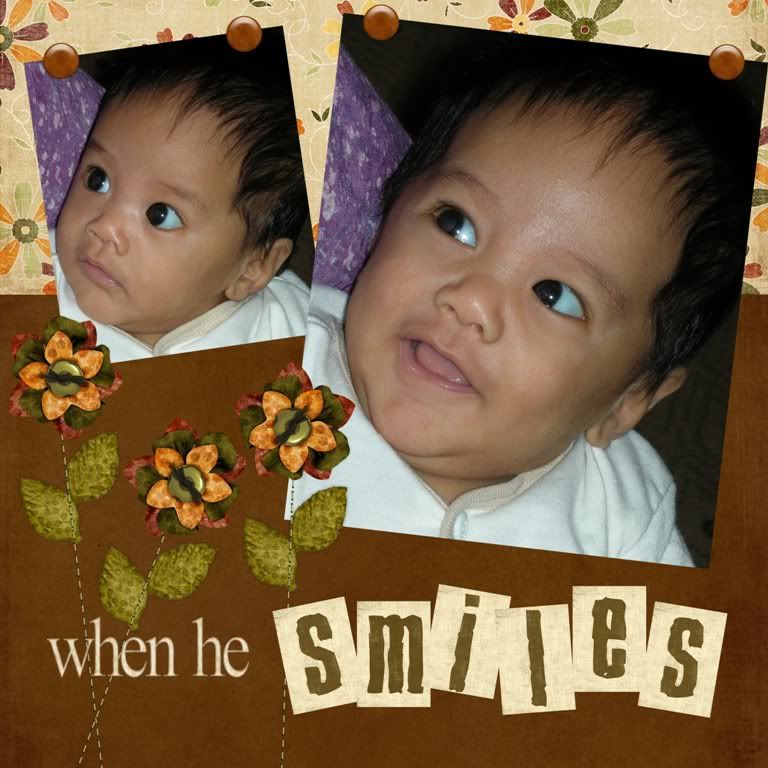 Moments like these make me (temporarily) forget my 30-hour labor
So far, I have never succeeded in writing an entry in one sitting. This post actually took me a whole week to complete, i.e. on 3 different days at 4 different intervals.