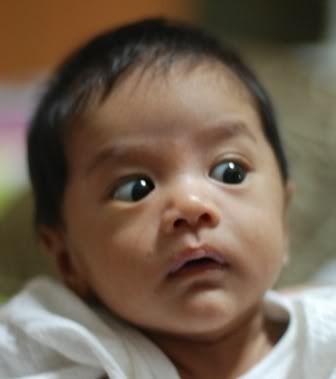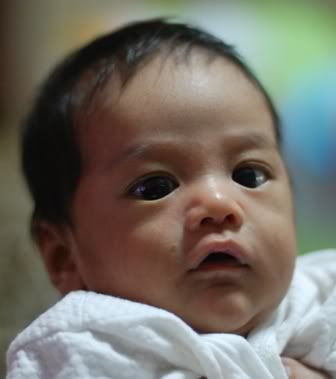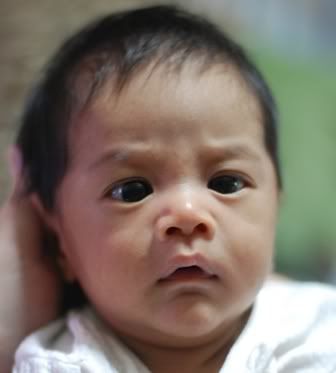 The many faces of Nuaym@4.5 weeks
Today is the 41st day of my pantang. This means there are 3 days left till 'merdeka', 'raya', or whatever term that is normally used. You might imagine me jumping up and down with joy, buat somersault even. Err... the truth is, not so much happy-happy-joy-joy-lah. Sounds pelik?
Ada ke orang yang tak berapa gumbira nak habis pantang?
I must admit that a part of me is glad that the 'waiting period' is almost over (kiter rinduuuu sangat Nescafe kiter tau!), but another part of me is afraid of the 'reality' that's about to come.
During my current confinement, my mom (yang kini sudah pencen) comes over to help out especially with the house chores, masak-memasak, laundry and ironing, plus the handling of the big kids. Dulu-dulu when Aidiin was a tiny baby, I only had Sofea to think about. She was only 3+ and was still in kindergarten. No homework to follow-up on, no monthly tests and exams to get stressed about, no workbooks to check and mistakes to be reviewed.
With Mama taking over most of my daily 'To Do(s)' during her stay (and a BIG BIG BIG help she has been), I only needed to worry about myself and Nuaym. Walaupun on some days (mostly weekends) she went back to her house, her presence just makes life for me and famyBoy easier.
Why? Because when Mama is around, there are 3 adults vs 3 children.
Without Mama, famyBoy and I will be outnumbered. *gulp*
I've been spending my pantang days mostly feeding and handling Nuaym, getting online to check blog and FB updates whenever I get the opportunity (which is quite rare), and making several attempts to read. So far I've only managed to finish
Julie & Julia
(funny-lah citer ni... I really want to watch the movie!), two magazines and my current reference
What to Expect: The First Year
(ongoing). Not much reading done this time around, unlike masa pantang with Aidiin. Err... I blame the idiot box for all the reading non-accomplishments. :P
Checking the calendar and the reminder in my organizer, I am now starting to worry worry about the life after this pantang period. THREE days left... very very fast tu. Isk isk.
Will I be able to resume the wife, the mom, the homemaker, the 'cikgu garang' roles... now with an almost 6 weeks old baby in the picture.
Will I be able to appear cool, calm, graceful and composed under pressure?
Dah mula ketar lutut nih.
Will I be able to handle it all on my own???
Saya teramat takuuuuttt...