Sals@biila's Year End Concert and Graduation Ceremony '09 took place last Sunday (Nov 15, 2009) at Hotel Singgahsana in PJ.
Like
the year before last year
, the event was held to celebrate the graduating 6-year-olds while the rest of the students got to participate in various performances. Mak-bapaks, atuk-neneks, adik-kakak-abangs, aunty-uncles who attended got to watch the show and makan-makan and mingle-mingle during the event. The only difference was that this year, the ceremony was held in the morning, so we, the audiences, get to devour breakfast and lunch.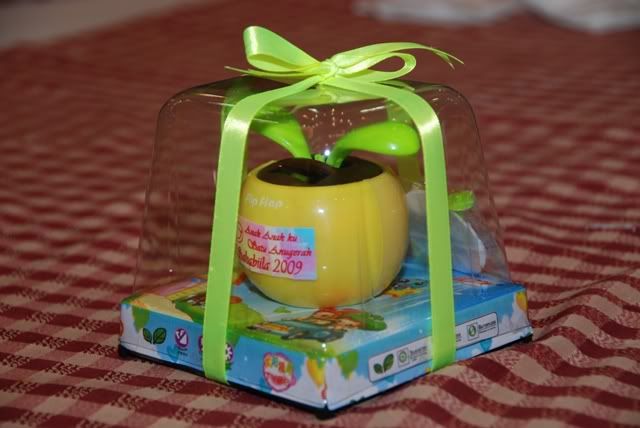 The theme for this year's concert is "Anak-Anakku 1Anugerah". There was a pertandingan menulis dan mendeklamasi sajak for parents (based on this theme), but sebab saya langsung tidak berbakat dalam part sajak-menyajak ni, I gave macam-macam excuses bila cikgu suruh submit an entry. hee hee hee.
Aidiin participated in 3 performances: a story-telling slot (where he had to dress up as a 'roaring rock' in a cave, along with his other 'rock' friends), a poem recital (where he and his friends took turns reading out parts of a poem while his other friends acted out the scenes using props), and a choir (where he had to deliver a Chinese version of a song).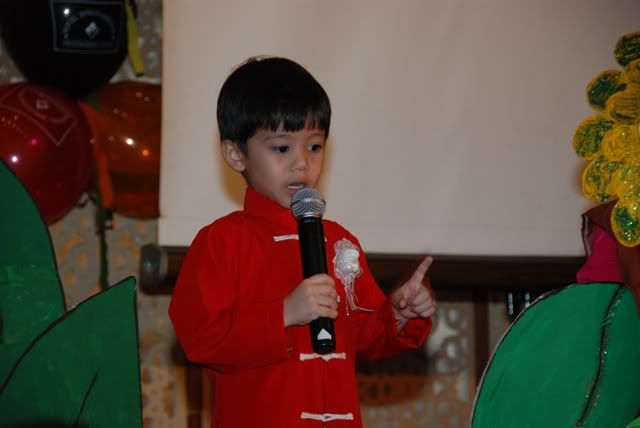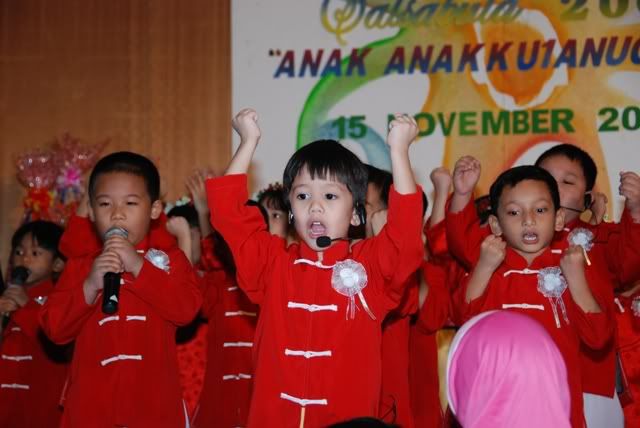 The following video was captured menggunakan my camera kecik (sbb dslr kiter belum di-upgrade supaya boleh amik video... *jeling2 kat famyBoy*). This is a performance by Aidiin and his buddies (1st group of 5-year-olds). It is the Chinese version of a song titled "Suara". Don't ask me to tell you what it's called in Chinese... tak reti nak sebut, what more to spell it out :P The original Malay version was performed after that by the 2nd group of 5-year-olds.
I must admit that I was very impressed!! Sungguh tak ku sangka. He was first asked to deliver a short intro describing the upcoming performance by the 5-year-olds before the kids came up on stage to sing. He was confident, and he didn't show any signs of stage fright at all. I had underestimated the little boy's capabilities all the while... *malu*
After watching his performances that day, all I can say is, Ibu is very proud of you darling!!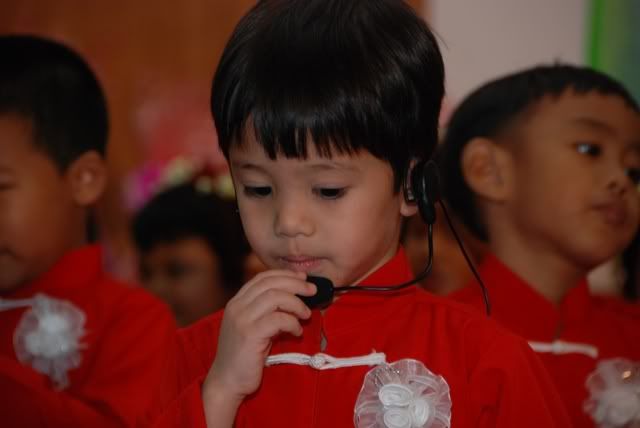 Overall I think the event went well... stayed within the time limits and all. Aturcara majlis kata habis 1:00PM, memang habis 1:00PM on.the.dot. I'd have to tabik the emcee for this... nama dia Ustaz Akhwan.
Kudos to the teachers who managed the entire ceremony. Bukan senang nak control and prepare the kids (ages ranging from 2-6), what more to teach and organize and train them for the performances and such. *two thumbs up*
Wanna see more pics? Silalah click
di sini...
:)