Yesterday morning, we became one of the statistics in the "kemalangan jalanraya yang mengakibatkan kesesakan lalulintas" traffic reports.
Location: On lebuhraya LDP (depan TeeVee3) from Mutiara Damansara heading towards PJ.
Time: Approximately 10:23-25am. I remember glancing at the clock in the car a few minutes before it happened.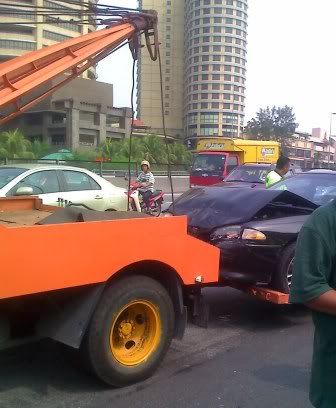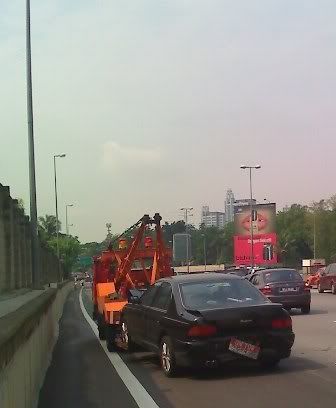 Ours was Car #2 of 4 that made up the 'sandwich'.
Mujurlah tiada kecederaan teruk atau kemalangan jiwa. Kereta-kereta je yang kemek-kemot bengkang-bengkok pecah-berkecai merata-rata. I am very thankful that it was just me+famyBoy in the car at the time, no kids in the backseat. We were hit twice from the back by Car #3.
I called my doctor later to tell him what happened and asked him what I should be looking out for. Any bleeding?
So far, takde.
Any severe pain?
Ada discomfort at the lower tummy area, but taklah severe. Pinggang sedikit sakit but otherwise not in serious pain.
I went for a checkup this morning anyways just to make sure that everything is ok, to eliminate our worries and give us a peace of mind. Alhamdulillah, the baby is fine... he/she is about 8 weeks old today. Dah nampak the shape of the baby's head and body during the ultrasound. And the 'blinking' heartbeat too. *sniff*
I was advised not to move around or jalan-jalan too much in case there is muscle trauma due to the impact, and no heavy housework for the next few days. Bed rest is recommended... so nampak gayanya famyBoy kena take over my duty as bibik-lah weekend ni. Hmmm...