It is indeed a month of blessings... I'll tell you why.
Firstly,
ze missing kitty
, has returned!! We found her (or rather we 'heard' her) from the underground drain at the front of our house exactly 3 weeks after the first night she went MIA. She'd lost her daisies collar and looked slightly thin and haggard, but most importantly, she came back! And she's ALIVE!! How we succeeded to get her out of the drain deserves an entry of its own, so I'll write more about that later. Tungguuuu...
Then, we (me+the kids) were fortunate enough to be able to tag along while famyBoy worked in Terengganu. It became an impromptu Cuti-Sekolah-Out-n-About vacation for us... woo hoo hoooo!!!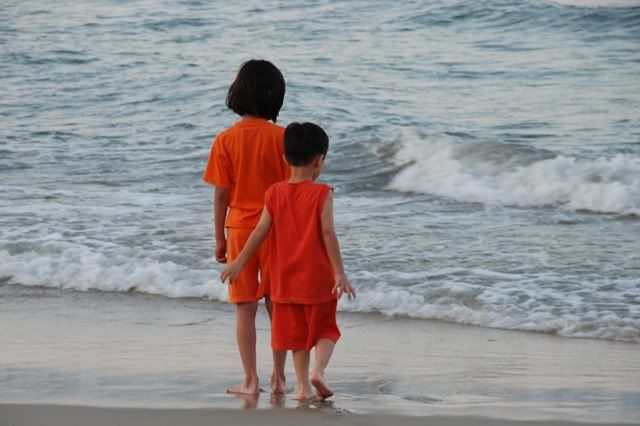 Bercanda di pasiran pantai
I had already made peace with the possibility of having to stay@home alone with my hyperactive kids during the 2 weeks school break. Tup tup dapat gi jalan-jalan pulak. The best part was that we managed to get Misha out of the drain the very morning before we left for our trip. Leganya... at least our minds were at ease during the vacation. Dapatlah enjoy the hotel stay, the keropok lekor, the beach and the swimming pool. Takdelah risau whether she'd be cold and starving, if she'd found anything that's worthy of eating. Whether she'd still be there in the drain (or gone missing again) or if she'd still be alive when we return from our 6 days' trip.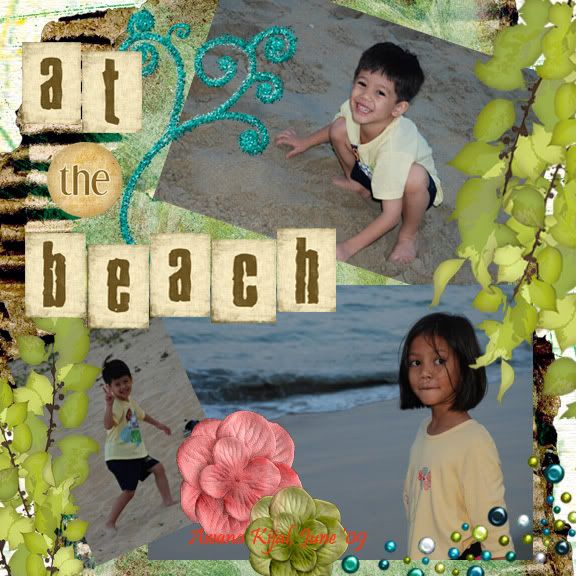 Have not uploaded the other Cuti-Sekolah-Out-n-About pictures... sebab saya tersangat m a l a s. heh. Nanti-nantilah...
And lastly, of course, there's
the other berita gumbira
. I was super-nervous but very much eager to find out even when my actual (monthly) appointment with my obgyn was scheduled to take place next week. Felt a bit musykil the first time (takut I was being too hopeful and starting to imagine things), so I actually took the test 3 times (at different hours in the day) using kits of different brands! :P
All 3 tests yielded the same (positive) results. I passed with flying colors each time. *giggles*
Did I mention that this is a month of blessings? Alhamdulillah... syukur sesangat.