Sofea turned 8 on May 13, 2009 bersamaan 18 Jamadilawal. It was during exams week, and I was mostly stressed out and panicking (I cannot help it!!!) sebab dia nak amik exam and forgot to blog about the birthday girl. Lagipun I was still feeling blue after
my cat Misha went missing
. No mood-lah.
Coincidently, I remembered that I STILL owe Madame iSV a tag about anak sulung. Giler lama dah dia tag *blush* but saya asyik terlupa nak buat. Jangan marah ya, Ery?? But then again, memang amat appropriatelah this tag dijawab at this time, sempena Sofea's birthday entry kan? kan? kan?
First Born Tag
Here you go moms - a different kind of survey for a change - it's all about your first born! Just copy and paste it in a new note for yourself!

Let's see how much you remember!
1. WAS YOUR FIRST PREGNANCY PLANNED?
Mmmm... yeah, pretty much. We were
pressured
strongly encouraged to produce grandchild(ren) immediately :) but Sofea was only conceived after about 10 months after I got married.
2. WERE YOU MARRIED AT THE TIME?
Of course-lah. See question #1.
3. WHAT WERE YOUR REACTIONS?
Initially, I didn't even know I was pregnant. I was on a business trip to Phoenix, AZ and was throwing up throughout the plane ride. Immediately blamed the suspected basi kuah kari mamak. Sungguh merugikan... duduk business class tapi tak dapat makan apa-apa pun.
When I went shopping for jeans/pants from the Factory Outlets in Phoenix, I was slightly puzzled that I had grown one size bigger after my 2 weeks' stay there. I thought it was because of all the yummy food I ate. Olive Garden laa, IHOP laa, Taco Bell laa, big big slices of eggplant pizza laa dan macam-macam lagi.
Returned to Malaysia, had a fever, went to the clinic, doctor started asking questions which resulted in me having to pee in a cup. A few minutes later he said, "Congratulations Mommy!" Woaaahh!! Senyum simpul tersengih-sengih makcik. hee hee hee.
4. HOW OLD WERE YOU?
26 going 27.
5. HOW DID YOU FIND OUT YOU WERE PREGNANT?
Refer to last paragraph of answer to question #3.
6. WHO DID YOU TELL FIRST?
Parents, on both sides. Mereka teruja berlebih-lebihan.
7. DID YOU WANT TO FIND OUT THE SEX?
Yes. I was super curious. Senang sikit nak shopping ;)
8. DUE DATE?
May 13/14/15/16, 2001. The EDD varied each time I went for a scan.
9. WHEN WAS YOUR CHILD ACTUALLY BORN?
May 13, 2001 (on Mothers' Day that year)
10. HOW MUCH DID YOUR CHILD WEIGH?
3.03kg at birth, 2.75kg upon discharge. Confirmed by checking dokumen beranak. :)
11. DID YOU HAVE MORNING SICKNESS?
Except for that one episode of muntah-muntah on the plane, I had a smooth pregnancy. Ate anything my heart desired and Alhamdulillah, no morning sickness whatsoever.
12. WHAT DID YOU CRAVE?
Hmmm... I drank a lot of teh tarik. A LOT. :) Oh I craved for pulut inti quite often, sampai dah dekat due date pun still nak makan.
13. WHO/WHAT IRRITATED YOU THE MOST?
No one/Nothing in particular. But I didn't enjoy waking up several times in the middle of the night to pee.
14. WHAT WAS YOUR FIRST CHILD'S SEX?
Girly-girly.
15. DID YOU WISH YOU HAD THE OPPOSITE SEX OF WHAT YOU WERE GETTING?
Didn't mind any sex sebab dia first born. Excited nak dapat baby je.
16. HOW MANY POUNDS DID YOU GAIN THROUGHOUT THE PREGNANCY?
Alamak tak ingatlah. Many many many pounds I guess. And most of them are still with me. Cissss!!
17. DID YOU HAVE A BABY SHOWER?
No. I think there was a kenduri kesyukuran if not mistaken.
18. WAS IT A SURPRISE OR DID YOU KNOW?
The kenduri? No, it was not a surprise :) It required a lot of pre-planning work, so takleh nak surprise-surprise.
19. DID YOU HAVE ANY COMPLICATIONS DURING YOUR PREGNANCY?
Errr... don't think so. Like I said, it was quite smooth.
20. WHERE DID YOU GIVE BIRTH?
Pantai Medical Centre.
21. HOW MANY HOURS WERE YOU IN LABOR?
24 hours!! I was admitted on Saturday morning due to a "show" (no "water break" experience) was about 2 cms dilated and had to stay at the hospital overnight. Sofea arrived the day after, 2 minutes before noon.
22. WHO DROVE YOU TO THE HOSPITAL?
An excited+panic famyBoy. hee hee hee.
23. WHO WATCHED YOU GIVE BIRTH?
famyBoy, and a few nurses/midwives. And my obgyn of course.
24. WAS IT NATURAL OR C-SECTION?
Natural birth, but I did request for epidural last minute. Tak sempat nak take effect pun rasanya. Ada rasa kebas tapi tak sepenuhnya. Lesson learnt, next time (if there is a next time) mintak awal-awal.
25. DID YOU TAKE MEDICINE TO EASE THE PAIN?
Inhaled laughing gas, jadi sedikit weng afterwards. Given Epidural at the last minute coz I was not 'relaxed' enough and the dilation process was taking place much too slowly.
26. WHAT DID YOU NAME HIM/HER?
Nur Addina Sofea
27. HOW OLD IS YOUR FIRST BORN TODAY?
8 years and 15 days :)
There you go, Ery. Selesai sudah hutang saya ngan awak. ;)
---
This birthday entry would not be complete without me recording some of the birthday girl's growing up progress(es) since the past year.
Without a doubt, she is STILL (and I think will always be) Ayah's Little Gurl. famyBoy can deny all he wants, but he knows he cannot bring himself to think about her future (when he has to let her go to become somebody's wife) without getting all mushy and a bit sebak. The change in his air muka shows it all. :)
Character-wise, good/bad habits-wise, she is more like her Ayah than me. I think the only way she's like me is the fact that she enjoys crafting activities. Origami, beading, paper crafts, cardmaking, scrapbooking etc. Other than that, she is 'just like Ayah', i.e. a female (mini) version of her father.
She is doing well academically, although I think she is a bit 'lazy' this year :P But I don't blame her-lah, because there's just sooo much homework daily, siapa tak penat and get turned off? The school practices streaming, and I think that's the reason her school workload is heavier this year. School has become extremely competitive too (dan Ibu jadi lebih tensi!!). But she's surviving... Alhamdulillah.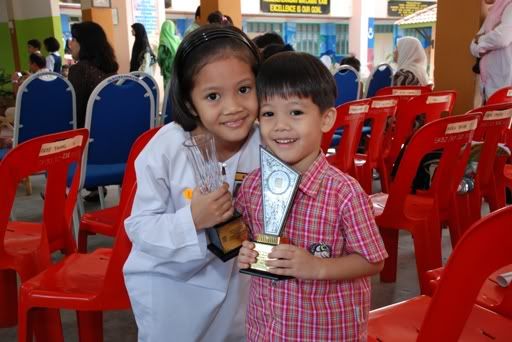 Last year's prize-giving ceremony@SK... Aidiin tumpang bangga & gumbira :)
KAFA-wise, she's making very good progress in her Quran class. She is now in Juzuk 30, a few surahs before Surah Ad-Duha. According to her, "Ustaz kata lepas ni ulang balik dari mula." I was told that nowadays the kids in her class recite the Quran in turns, macam majlis taddarus gitu. Alhamdulillah.
At home, I encourage her to mengaji on her own every evening after solat Maghrib or Isya', or whenever she gets a chance. The reason? To please Allah and dapat pahala and to chase Shaytan away. :)
For her birthday this year, I engaged the expert services of
Madame Gart d Blue
to bake birthday cookies for the birthday girl to distribute to her classmates in school. No big parties, but we did have a small (belated) cake-cutting ceremony last weekend with my in-laws: Sofea & Aidiin's Atuk & Wan, aunty & uncles and cousins. Of course, Ibu & Ayah & Aidiin juga.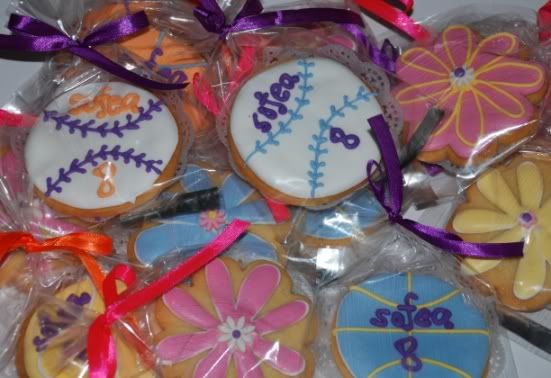 One obvious characteristic of Sofea is that she has an innate desire for fun, ever since she was little. Sometimes I think that although she's an 8-year-old on the outside, she's still a 4-year-old on the inside... jiwa muda gitu. :)
She's inquisitive and always cheerful by nature and she's happy as long as she can laugh, have lots of fun and be loved and be around other people. She also thrives on compliments and affection. So despite her busy schedule with school, I am trying to think of activities outside of school that could feed her need to be industrious. Mini projects like helping around the house, cooking, gardening, using the computer (for educational purposes) may help her become more independent and competent. Hopefully, in this way, she'll be exposed to other skills like disciplining herself and managing time wisely. My objective is to have her learn to balance responsibility and organization with excitement and fun. May Allah guide me in my efforts and grant me patience throughout.
Happy 8th Birthday, Kakak!!
Do know that Ibu and Ayah's constant bebelan is all because we want only the best for you and because we love and care about you very much. May Allah guide me in raising you to be anak yang solehah and may you grow up to be a good and respectable muslimah.
Lots and lots and lots of love from Ibu, Ayah & Aidiin.
Previous birthday entries:
-
her 7th birthday
-
her 6th birthday
-
her 5th birthday
-
her 4th birthday