Aidiin has a habit of walking around the house with his food. He once stepped into our bedroom with his mouth full of keropok. When he opened his mouth to speak, keropok crumbs flew everywhere. Grrr.
Another time it was a packet of Cheezels coz he wanted to show me how 'orange' his fingers had become.
One time he walked into Sofea's room with a cheeseburger. Malang tidak berbau, he tripped and the burger fell out of his hand, smearing ketchup on the floor and one part of the carpet. Maka berlakulah insiden pertengkaran adik-beradik yang berakhir dengan tangisan dan bebelan Ibu yang berlarutan tanpa henti. Not a pretty sight.
The day after the accident, Sofea put up a sign on her bedroom door. When Aidiin asked her what it's for, she told him that it meant "NO burgers here". He then understood that it meant NO FOOD was allowed in her room. Alternatively, it also meant that he can only enter if he does not bring in anything edible/drinkable. This includes air kotak, snacks of any kind and M&Ms.

Tak boleh bawa makanan masuk ke bilik ini
The Cheeky One also has a habit of setting up his trains in front of his sister's room, much to her annoyance. She then warned him about leaving his trains lying around inside or in front of her room by putting up the "NO train trucks here!" sign on the door. This time, she didn't have to explain to him what the sign meant.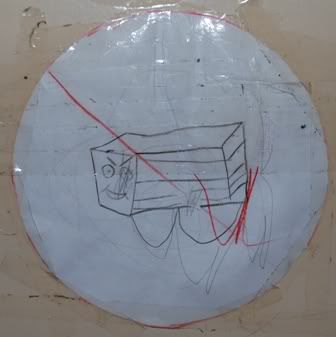 The conteng-conteng was a form of objection
---
We were driving around the One U area a couple of days ago when Aidiin pointed to the No Parking sign and said, "Look Ibu! No 'P' here!!", to which I replied, "Uhmm...yes," rather unenthusiastically.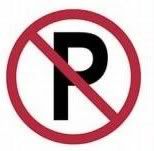 He then elaborated, "Ibu, dia cakap tak boleh
kencing
kat sini. Kalau nak kencing, kena tahan sampai balik rumah..."
We (me, famyBoy & Sofea) burst into laughter while Aidiin looked at us, perturbed.
Tak tahan tengok muka dia yang innocent dan agak confused itu. I laughed so hard I almost 'P'-eed in my pants!! :D