Aidiin wrote out his name in full for the first time after I taught him how to spell 'Muhammad' and 'Najmi'. He had memorized them after 2 sessions of repeat-ikut-Ibu, and could spell them correctly on his own since then. Yayyy for the clever boy!! :)
I am very proud of him (can you tell?? hee hee hee). Before this he only remembers how to spell 'Aidiin'.
Tapi lepas tu dia start lukis gambar Thomas Si Kereta Api merata-rata. And insisted that I take pictures of his 'masterpiece'. Hmmmpph.
Nak marah pun tak jadi bila tengok cheeky face ini. *sigh*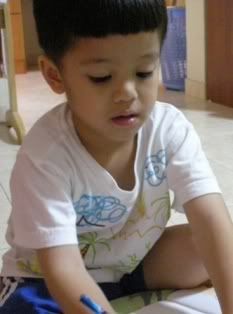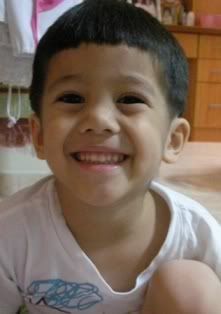 ---
Lately, he's been showing interests in babies and telling me about his friends' younger siblings.
"Aliff, kan, dia ada babyyyy... Nama baby dia Qistina."
"Aidiin nak baby ke?"
"Nak!! *smiles cheekily* Aidiin nak baby... urm... boy!"
"Kakak nak baby girl!!!!" <---- menyampuks="menyampuks" nowhere="nowhere" of="of" out="out" sofea="sofea">---->
"Okay-lah, Aidiin pun nak baby girl-lah."
"Betul ke?? Okay, esok kita pegi kedai, kita beli baby girl."
"Taaaak, bukan beli. Nanti perut Ibu pecah, dia ada baby-lah."
*speechless*
Is it time?? I wonder...