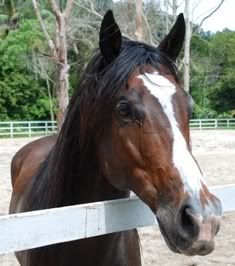 The stables are opened daily (except on Mondays) at 7am-11am and 3pm-6pm. 11am-3pm are the horses' mealtimes and resting times.
We actually had to go there twice. The first time we went (it was around 10am I think) we had to get on a 'wait list' because two other groups were already there, and they had made reservations earlier. The lady at the stable told us we could get our turn at 11am if we wished to wait. Since we didn't have anything else planned that morning, we decided to lepak-lepak at the stables to look around.
Sofea was very eager and kept repeating how "tak sabar" she was.
We watched the first group (a family of 5) climbed up their horses, took the reins and galloped away. Actually, the horses tak 'galloped' pun. It was more of a 'they trotted away led by rope held by experienced trail-leaders on foot'. :)
Clippety-clop, clippety-clop, clippety-clop, off they went into the jungle. The ride (for inexperienced riders) was supposed to last about 15 minutes. Masuk hutan, then trot along a riding trail that would eventually pass by the entrance to The Seven Wells Waterfall, then continue along the main road, and lastly back to the stables.
There was a boy about Aidiin's age in the group that just left, and that boy looked happy and excited as his horse trotted away. So I casually asked Aidiin if he was interested (and felt brave enough) to ride the big horsey. I pointed out the different horses that were there.
"Aidiin tak nak yang black, Aidiin nak yang brown tu", he pointed to a light brown stallion. I later found out that the horse's name is Milko.
I was doubtful (such a teruk Ibu I was), but I didn't want to sound discouraging and I had no intention of dampening his spirit so I told him okay, we'll ask the aunty to give you the brown horsey. He was very pleased.
At around 10:50am, it started to rain. And rained, and rained some more. :( It seemed impossible to go riding in that kind of weather. Cari pasal buat demam je for nothing. So we told the nice lady that we'll come back in the afternoon. Hopefully the weather would be more pleasant then. And Alhamdulillah, it was. Not too hot and not very humid. Just nice-lah.
We were the first ones to arrive for the afternoon sessions. We were asked to choose proper-fitting safety hats (helmets?) while the trail-guides prepped our horses with saddles.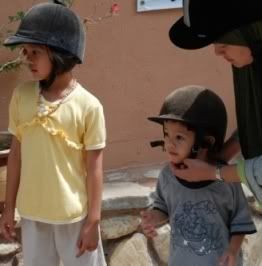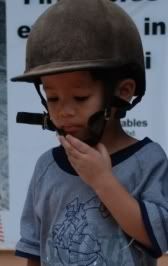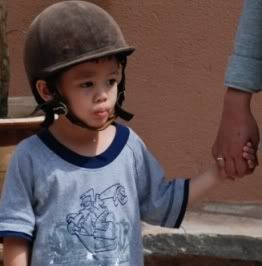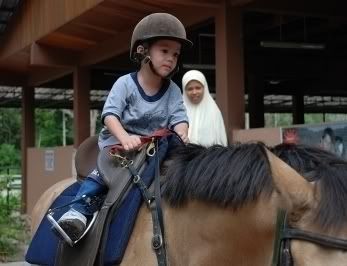 The suspense was building up (fast!)

Sofea was the first to climb on her horse, a gentle black stallion by the name of Don. Then it was my turn, then Aidiin and then famyBoy's. All four of us were supposed to go riding together.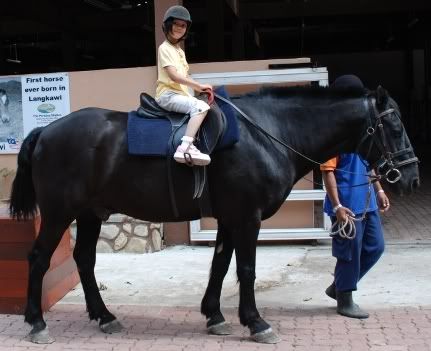 She couldn't stop smiling

Aidiin's horse took four steps forward before my 'macho' son decided to break into tears. He cried out for his Ayah and wanted to get off. Aiseyyy... I knew it was too good to be true. Sedangkan nak pegang burung kecik pun takut, inikan pulak nak ride a big, tall horse! :P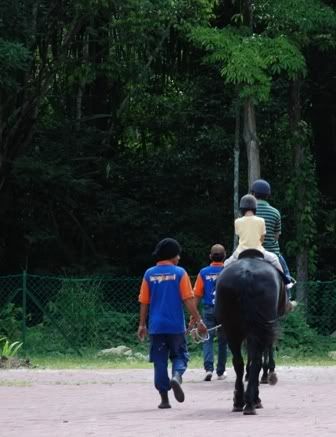 Kakak's and Ayah's horses trotted into the jungle

As it turned out, famyBoy stayed behind to accompany Aidiin while Sofea and I went riding first. We decided that since we'd already paid for four, I'd stay behind with Aidiin later when it's famyBoy's turn to ride. Sofea (ever-willingly) got to ride twice.

He became very quiet and moody

Overall, it was a fun activity albeit a bit expensive (RM45/person for a 15-minute ride, which includes one horse & one trail-guide). A memorable experience, especially for novice riders like us.
Before driving back to the hotel, we stopped for rojak and mee rebus at the gerai-vans near Kok Beach. That was the closest that we got to a beach, without getting caught in the rain.
**View
other pictures that I took
at the stables.