Eh? Takde orang ke? Ini sudah baguuuuussss!!!
That was the first thing that crossed my mind when we got off the car. Around us, there were four cars (including ours) and one van parked in the parking lot. It was rather strange that the place was so empty and quiet, especially since it was the holidays and all. The last time we were here, in 2002, the place was super packed with people.
Very good-lah if tak ramai orang. No need to queue panjang-panjang like last time.
But boy was I proven wrong.
Rows and rows of a mixture of eager-looking and anxious-looking folks were already there at the ticket counters queueing to buy tickets. And many more already in long lines awaiting their turn to ride on the cable cars. Imagine queue yang berlapis-lapis dan berlingkar-lingkar macam ular itu. From my observation, macam sama ramai je foreigners and locals (Malaysians). But where did these people come from??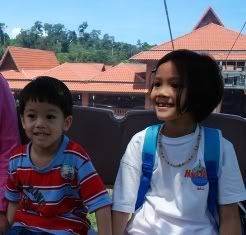 As it turned out, we had accidentally missed the first entrance to the Oriental Village (yang lalu under archway Berjaya Resort tu) and drove to the second entrance instead. The first entrance's parking lot was fully parked with cars, vans, Bas Persiaran(s) dan kenderaan-kenderaan yang sewaktu dengannya.
Ah well, c'est la vie. We had come this far so nak tak nak kena queue jugaklah. It was too good to be true anyways, thinking that the place would be crowd-free during the holidays. :P
In the end, it was all worth the wait (we had to stand in queue for almost an hour) to see the excitement on the kids' faces as we started climbing uphill Mount Mat Cincang.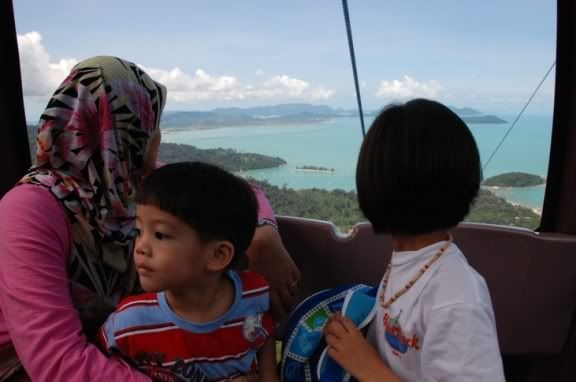 This is one of the times you SHOULD pandang belakang

When we reached the topmost stop (there were two), we got off the gondola to have snacks and drinks at the small makan-makan place up there, which is said to be 710 meters above sea level. The previous stop was at 652.5 meters.
We spent about 30 mins walking around marvelling at the view and taking pictures before deciding to go back down.
Coincidently (or perhaps it was just plain luck), the gondola that arrived to take us down had the number *1* printed on it. An excited little voice had pointed out, "Macam #1 Thomas kan, Ibu?" No prizes for guessing who that person was. :)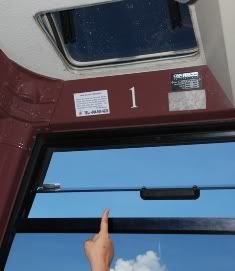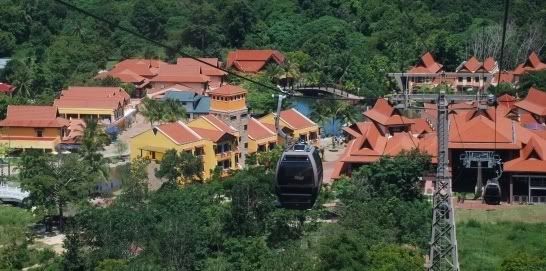 L-R: My fat finger. A view of the Oriental Village from gondola 'Thomas'

We had our lunch at the food court in the Oriental Village. The rest of the afternoon was spent browsing through souvenir shops, taking more pictures and playing with bunnies.
Lerr... tak cukup ke main dengan arnab hari tu?
The albums@multiply contain pictures
taken during our cable car ride
and those
taken at the Oriental Village
, including the ones with Aidiin on a step-n-go bike. :)
We stopped at the Petronas Station at Telaga Harbor to refuel and buy jajan before heading back to the hotel. Since the petrol station was located at a harbor, there were a few boats anchored there as well.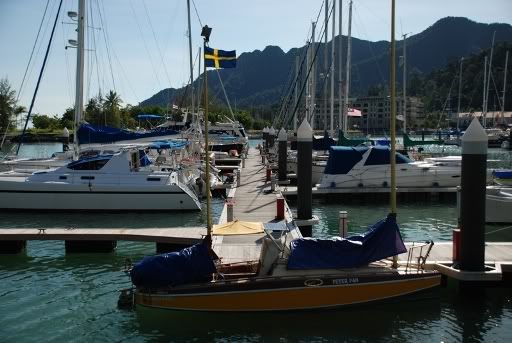 Teringat kat Ikea

More boat pictures
here
. Orang 'jakun'lah katakan... hee hee hee.