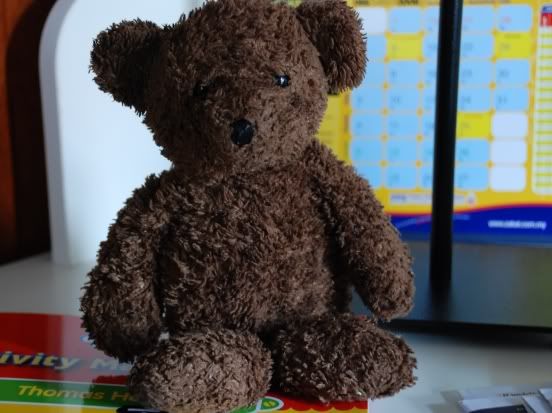 I need a hug
It started yesterday morning. I can't remember exactly what had triggered it or when it got triggered.
Was it something on TV? Or did it hit me while I was blog-hopping? Or g00gling for recipes? Or during that mere 5 minutes when I logged on to MukaBuku after abandoning it for weeks?
Perhaps it was during my quiet breakfast when I was enjoying my roti paratha cicah gula and a mug of nescafe. Or maybe when I was loading the kids' baju kotor(s) into the washing machine. Or when I was outside feeding the cats?
Perhaps it is just PMS.
Or perhaps it is due to the fact that it is now the month of December and I cannot confidently tell myself that I have done a good job managing my various roles and responsibilities as a muslimah, wife, mother, daughter, sister, friend.
Saya rasa kerdil dan kekurangan segala.
Whatever it was that had caused it, the 'feel-down-and-start-moping' switch was turned ON and I don't know how to quickly turn it OFF.
*sigh*
I think I need a break. Maybe I should take some time off to concentrate on abandoned hobby-related projects and catch up on some reading.
Ohhh but sebelum itu, saya ingin mohon maaf atas sebarang salah-silap sepanjang hayat saya di blogosfera ini.
Maybe I need to take time off to reflect, evaluate and think, without getting all depressed or sad.
Tapi saya masih rasa kerdil dan kekurangan segala.
It is not about monetary or material possessions, or not about not being thankful and tak bersyukur dengan apa yang dah ada.
It is about the feeling of not doing enough.
Sometimes I feel that I can never measure up to other peoples' standards. I worry about what others might feel, what others might think (or not think?). I tend to put others before me, making
their
happiness my priority.
I can't help it, it's like a disease.
I tell myself biarkanlah, pedulikanlah, tutup mata&telinga jelah, but deep down inside I feel totally the opposite. If there is such a penyakit known as the care-too-much disorder, then I think I have contracted it.
Something doesn't feel right, though.
I think I need to start focussing on me. Maybe that should be one of my new year's resolutions.
---
Selamat Menyambut Hari Raya Aidil Adha
to all Muslim readers. Minta diri dulu, buat sementara waktu. Kita ketemu lagi nanti... errr bila-bilalah ya? Y'all take care now. Jangan naughty-naughty. *hugs*