I didn't plan on the rather abrupt ending in the
previous update on Misha's uterus removal
.
I wanted to write more but I had to attend the weekly staff meeting (which Zan got to ponteng since she was on leave *winks at Zan*). And after the call, I didn't feel like continuing the update. Dah takde mood dah.
I wanted to continue writing the update at home but I had
TAR to watch last night
.
Thank you all, for your well-wishes. I am happy to tell you that Misha survived the
very costly
operation... Alhamdulillah.
Last Friday, the Vet called me about 30 minutes before the surgery to tell me that everything looked okay, so he will proceed as planned.
He called me about an hour and a half later to tell me that the uterus (and ovaries) had been removed and Misha was sleeping; still knocked out, sedated with anesthetics. He had to put her on IV drip to avoid dehydration.
The Vet mentioned that the removed uterus was already quite severely damaged (looked swollen with thick-lining wall and felt 'plasticky'). What Misha had is called "endometrial hyperplasia". I had to g00gle this medical term to find out more.
Grey's Anat0my tak pernah tunjuk case macam ini.
As the article suggests, cats with this illness do not appear sickly. I had mentioned in my earlier post that I only noticed her bloated tummy. Her behaviorial patterns and eating habits were the same, nothing abnormal.
Endometrial hyperplasia is a uterine infection due to hormonal changes but not as serious as pyometra
.
Misha was kept overnight at the KL hospital so that her status could be monitored closely. She was sent back to the DU branch on Saturday evening. famyBoy and I picked her up that evening itself because the Vet said she looked very tensed and refused to eat/drink.
...
I have to admit, I was very scared the whole time. Me, the scaredy-cat. I actually had nightmares the night before the surgery. I dreamt about losing her. I dreamt I was blogging about her death, sobbing heavily while I wrote her obituary. I dreamt of naming, in the years to come, a new female kitten Misha, too, in memory of my first Misha who had passed on. Nauzubillah. Jahat sungguh syaitan ni.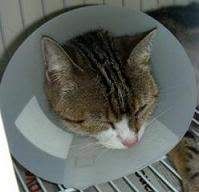 Misha is now at home, recovering but still a bit weak, and on antibiotics. I was told to allow very minimal movements and to have her confined to cage-rest until she gets better. Doctor's orders, must follow.
famyBoy and I have to tackle her twice a day to pry her mouth open to pop the tiny antibiotic tablet inside. Not very easy to do this you know. I must say famyBoy is actually getting really good at this antibiotic-feeding task. This morning he managed to feed her without my assistance. heh heh.
Terrer lah you, Sayang.
Misha has a doctor's appointment next week to have her stitches removed. Eeiii... takuuuuut. And to think that I had gone through labor (24 and 30 hours, respectively), delivery pains and episiotomy... twice. Ugh.
Misha has to wear the collar thingy around her neck to prevent scratching or biting on her stitches
If all cats have nine lives, does this mean that Misha has eight more?
I don't remember her going through any other potentially life-risking situations before, apart from the really long flight from theUS to M@laysiaOhTanahAirku ten years ago.
Semoga Mishaku terus dipanjangkan usia... In shaa Allah.