A friend wanted give away her 10 months old cat and asked if I was interested to take him... and I'd said Yes!!
Tak pasal-pasal kan?
All these while I complain about so much to do, and already I've got so many things to take care of, bla bla de bla... *sigh*
...
If you have been reading my older entries in the other blog, you'd know that I already have a cat at home.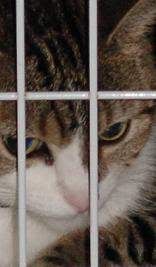 Anyways, several reasons made me decide to proceed with the idea. The main reason was I felt guilty for not really taking care of
my (existing) cat M1sha
lately. I can tell that she is lonely. We were very close, you see. I've had her since 1996. She slept with me on my bed, she entertained me and my roommate with her kitty antics, she gave me massages before I go to sleep and woke me up in the mornings so that I didn't
skip
miss my early lectures. In return, I ensured that she got enough food, water and love. Not only that, I also assumed the position of the sanitary engineer who cleaned her litterbox using that scooping thingy everyday and made sure she had a clean, odor-free, fresh llitterbox to do her business. M1sha and I travelled across the globe on a 30 hours flight when I graduated and returned home to M@lays1a in 1997.
When I got married and was pregnant with Sofea I was still staying at my parents' since famyBoy was working in another state and his job required him to be outstation most of the time. We were weekends husband-wife-lovers. Later, he got another job that's in-state, and after Sofea was born, right after
pantang
(confinement), we moved out and found our own place. I left M1sha at my parents' since the place we were renting then was a small apartment that had limited space. Moreover Sofea was still a baby. As for me, I was learning to be a fulltime wife and working mom.
We took M1sha with us when we moved into our own (current) house. Still trying to juggle between work, home and family, I did not really spend much quality time with my cat. Then I got pregnant with Aidiin, and even lesser time was spent with her. famyBoy took over the cat care responsibilities until Aidiin was born. Actually he is still helping out till now (thank you, Love). My kids have become my highest priority (after my husband) and M1sha was somewhat neglected. *guilty*
With the current lifestyle and work/family demands, we are normally not home during the daytime on weekdays, and only return late in the evenings. With the kids, household chores and whatnot, I am not left with much time nor energy to give my cat the TLC she needs. Our weekends are normally spent visiting the kids' grandparents, or running errands n stuff. Very limited cat-human quality moments.
M1sha is often left alone at home, mostly in her cage. I wasn't really keen on having her caged but I worry about her safety if we let her loose. Wild/stray dogs, other 'gangster' cats, crazy human drivers, non-hygienic food.
pssst... zan, confirm bukan kucing kiter yang berak kat laman awak, tau.
Plus I didn't want her to mix with the wrong (cat) crowd and get knocked up by some random alley cat. Yes, I'm picky about who she befriends and hangs out with, and that's the reason she's still a virgin till now. *guilty some more*
You might wonder why I never considered taking in another cat a long time ago. I did, I did. But the two (or was it three?) male cats DIED before I could confirm with their respective owners. Seriously. Y'know, for an animal that has nine lives, theirs were used up rather quickly.
Lately I have learned to juggle better (although still struggling) between kids, home, work, life... so now I want to make things right (if I could).
I feel really bad about abandoning M1sha the last few years.
I hope she will forgive me when she sees the tall, dark and handsome stud that I'm bringing home to her.
Sudah diperiksa later belakangnya... memang dari keturunan yang baik-baik.
[edit]
I wondered if cats M1sha's age have already begun menopause, but was relieved(?) to learn that
unlike humans, female cats remain fertile throughout their lives.
[/edit]